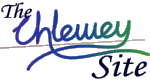 This page is part of © FOTW Flags Of The World website
Hungary - Historical Flags - Kingdom of Hungary (Pre-1848)
Last modified: 2008-07-05 by dov gutterman
Keywords: hungary | arpad |
Links: FOTW homepage | search | disclaimer and copyright | write us | mirrors

---
---
See also:
Other Sites:
---
The flag of King (Saint) Stephen I King Saint Stephen, the first king of Hungary reigned between 1000 and 1038. I saw it also in Nagymaros opposite the Castle of Visegrád.
István Molnár, 7 January 2001
---

image by István Molnár, 24 November 2000
This flag was the flag of the Árpád House, the House of the first Hungarian kings. It based on a picture on a stamp from 1981. The title is: Flag of the Árpád House in the 11th century.
The first known member of the Árpáds was Prince Ügyek. His son, Álmos and Álmos's son Árpád werethe leaders of the Hungarians at the time of the Hungarian Conquest in the Carpathian Basin at the end of the 9th century. The Árpáds reigned in Hungary till 1301.
István Molnár, 24 November 2000
The flag with the "Arpad Stripes" was used by the kings of the Arpad Dynasty 1000-1301 and see photos of genuine flag of Prince Ferenc Rákóczi II., Prince of Transylvania 1704-1711, Commanding Prince of Hungary 1705-1711 at "Hazatérés" Reformed Church at <www.geocities.com/hazateres/tortenel.html>.
Mikhail Revnivtsev, 29 October 2006
The stripes used by the kings of the Árpád House from the early 13th century (seals). The first mention of the flag with pictures you can see in the "Képes Krónika" (Vienna Illuminated Chronicle, Chronica Hungarorum , Chronicon (Hungariae) Pictum, Chronica Picta or Chronica de Gestis Hungarorum, see wikipedia).
See paints:
- Battle of Rozgony (14th century): The Hungarian Anjou flag win
- Battle of Ménfo (11th century)
- St Ladislaus and the Cumanian warrior (11th century)
- The tent of Ladislaus II
- Siege of Kraków
- The wedding of Charles I (Anjou)
- King Charles I. (Anjou)
- King Saint Stephen (11th centry)
- The Árpád Stripes in Thuróczy, Iohannes: Chronica Hungarorum, 1488 (1.2.3.4,5,6,7)
You can see the Árpád stripes: 7 divided red/silver or red/white stripes. Red/white/red/white/red/white/red/white or White/red/white/red/white/red/white/red. However, later the stripes used in wrong form - for example flag of Prince Rákóczi II.
You can see the Árpád Stripes on many city Coat of Arms. For example: Esztergom, Banská Bystrica, Presov, Óbuda.
István Molnár, 19 December 2006

image by István Molnár, 1 June 2001
Yesterday I was in the Hungarian Institute & Museum of Military History and I got 16 picture from Mrs. Csákvári, Györgyi Kottra counsellor, chief museologist and head of collection at the Military History Institute and Museum of the Hungarian Army.
Original comment for the flag
"1 -2. Family and royal banner of the House of Árpád (reconstruction). The two flags were reconstructed on the basis of portrayals of the period. They follow the pattern of medieval banners, the heraldic, rectangular flags. The textile parts substitute for the escutcheons. The earlier one with the patriarchal cross appeared during the reign of Béla III. As his coat-of arms the king had chosen the patriarchal cross of Byzantine origin, which was placed on the red escutcheon of the Árpáds. The triple mound under the cross appeared later. The red-argent striped flag appeared during the reign of Béla's sons, Imre and András II, as a revival of the coats-of arms of the previous kings. The flags and coats-of arms were used parallel to each other throughout the Middle Ages by kings from the House of Árpád and other dynasties in Hungary, as well. The two coats-of arms have made up today's Hungarian national arms, their colours are today's national colours."
István Molnár, 1 June 2001
More information on Árpád at <en.wikipedia.org>.
István Molnár, 5 April 2006
See also: Modern Political use of Flag with Arpad stripes
---

image by István Molnár, 15 June 2001
At <www.magyarmult.externet.hu>, you can find two pictures. On the first you can see King Charles I, king of the Kingdom of Hungary with his Royal Coat of Arms. On the second picture there is a Hungarian historical flag from the 14th century. On the picture is the Battle of Rozgony 1312. Pictures from the Képes Krónika (Illustrated Chronicle) from the 14th century.
István Molnár, 12 Febuary 2001
From <geocities.com/zaszlok/Muzeum>:
"3. Angevin (Anjou) royal banner, reconstruction - Banner used during the reign of Charles Robert and Louis the Great, made up of the family colours of the Angevins and Árpáds. The latter symbolised the Angevins' legal claim to the throne."
King Charles (Robert) I. 1301-1342
King Louis (the Great) I. 1342-1382
István Molnár, 15 June 2001

image by António Martins-Tuválkin, 18 November 2007
The 36th flag mentioned and illustrated in the Book of All Kingdoms [e9s50] is attributed to Hungary (Ungría). This as depicted in the 2005 spanish illustrated transcription [e9s05], a horizontally divided flag, the upper half blue semy of yellow flaurs de lis and the bottom half filled with seven horizontal stripes, alternating red and white, the latter thinner; flag in the ogival default shape of this source.
The anonymous author of [e9s50] describes the flag thusly: "E las seńales deste reinado es un pendón a meitades, la una meitat con flores de Francia porque es el rey de la Casa de Francia, e la otra meitad vandas bermejas e blancas d'esta manera" (And the sign of this kingdom is a halved pendon, one half with flowers of France because the kingf os of the house of France, and the other half red and white bars like this.).
This is the same design as the one above for Anjou Kings, only differently depicted probably due to style contraints on the part of the author of [e9s50].
António Martins-Tuválkin, 18 November 2007
---
On this Turkish picture from the 15-16th century you can see a yellow-blue flag. On the picture there is the Great Victory at Belgrade (Nándorfehérvár) in 1456. See <www.magyarmult.externet.hu>.
István Molnár, 12 Febuary 2001
This is a picture whose photo was sent by me two years ago from the original at Topkapi Saray in Istanbul. Željko suggested that it is how the artist thought a Christian flag looks like but not a real flag that was viewed by him.
Dov Gutterman, 13 Febuary 2001
Maybe this flag relates to the flag (?) of János Hunyadi, regent of Hungary. Here is his Coat of Arms: Two fields are blue with black crow, two fields are white with red lion.
István Molnár, 13 Febuary 2001
I think this flag is on the walls of Belgrade in 1456: <www.geocities.com/zaszlok>. This is the flag of János (Johannes) Hunyadi, regent of Hungary.
István Molnár, 13 Febuary 2001
Here is the story of the Great Victory of János Hunyadi in 1456 - <www.thehistorynet.com>.
István Molnár, 27 Febuary 2001
See also: Black Army Flag
---

image by Istvan Molnar, 19 June 2001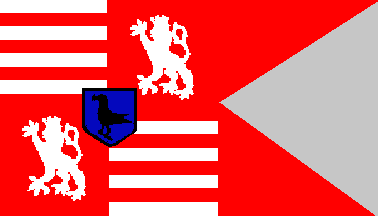 image by István Molnár, 19 June 2001
The flag of the Black Army. The Black Army was the centre of the mercenary force of King Mathias I.
From <www.geocities.com/zaszlok/Muzeum>: "5. The so-called `Black Army' banner, reconstruction This characteristic flag with a forked tail was reconstructed after a miniature in Philostratus Chronicle, one of the Corvinas, representing the 1485 entry of Corvin János, son of king Matthew, into Vienna. The black colour of the flag used to be white (argent) in fact, but the argent paint had become oxidised. The reconstruction preserves the original colour."
I made two images. The traditional (black) and the original (white (?)).
István Molnár, 19 June 2001
Shouldn't the bird in the heart shield be white also in the second flag? This would be more in accordance with the heraldic tincture rule. The fields represent Hungary (1 and 4) and Bohemia (2 and 3).
Elias Granqvist, 20 June 2001
The heart shield is the Coat of Arms of the Hunyadi Family. On the blue field there is the black crow on its mouth there is a silver ring.
István Molnár, 20 June 2001
There is another reason why the bird remains black. As Istvan said, it is the shield of the Hunyadi family, whose members included one Governor of Hungary, one Regent of Hungary, one Ban (Landowner/Lord type rank) of Transylvania, and one King of Hungary. The bird on the shield is a raven, after a story that the young Janos (John) Hunyadi was comissioned by his mother, Erzsebet (Elizabeth) Szilagyi, to take a ring to the then-King of Hungary and Holy Roman Emperor, Zsigmond (Sigismund) of Luxembourg. She had been given this ring by him, during one of his hunting trips in the are where she resided. On the way to the royal court, young Hunyadi and a servant stopped, andf he started napping. He was soon woken up by his servant, being told that the ring had been taken by a crow, and she was flying away with it in her bill. Hunyadi killed the crow with his last arrow, and when he was given a coat of arms, he chose to have a raven with a ring in its bill as his emblem. Another small fact about this Coat of Arms: The Hunyadi family's name in Latin is "Corvinus", meaning "crow", or "raven". And King Matthias' library, where the book covers all had the shield on them, was known as the Corvina Library, second only to the Pope's. It is also the name of one of the foremost publishing houses in Hungary today.
Georges G. Kovari, 22 June 2001
János (John) Hunyadi (1406 - 23 October 1456), Ban (governor) of Transylvania 1441-1446. Regent of Hungary 1446-1453
Mátyás (Mathias) Hunyadi (23 Febuary 1440 - 6 April 1490), King of Hungary (1458-1490). Other name Mathias Corvinus.
Erzsébet Szilágyi was the wife of János Hunyadi and she was the mother of King Mathias. No data about János Hunyadi's mother. By a legend his mother was Erzsébet Morzsinai a daughter of a Walachian voevod (kenéz!) and his father was King Sigismund (king of Hungary 1387-1438). The fact: Vajk, a Walachian noble, royal warrior got the tenure and castle of Hunyad in 1409, when János was 3 years old. Vajk of Hunyad (he had got the family name about the castle) had got another son. This boy was named János too (!!!!) You can see the tomb of the two brother (the two János Hunyadi) in the Roman Catholic cathedral of Alba Iulia city (Alba county, Romania; its Hungarian name: Gyulafehérvár). The young János Hunyadi became one of the richest lords of Hungary. His fantastic castle you can see in Hunedoara city (Hunedoara county, Romania; its Hungarian name: originally Hunyadvár - from the 15th century Vajdahunyad)
The legend of the ring, crow etc. - The crow holding a ring in its mouth is in a legend about the descend of Hunyadi János (John of Hunyad), father of King Mathias, governor of Hungary, the victorious hero of the siege of Nándorfehérvár (Belgrade) in 1456. By the legend his father, King Sigismund, King of Hungary, Emperor of the Holy Roman Empire (Germany) fell in love with a young Transylvanian (Walachian) girl. To remember this love the king gave a ring to the girl. The girl, who was the daughter of a Transylvanian Boyar bore a boy. When the little child, Jankula played on the yard of the House of the Morzsinai Family a crow stole the ring. The mother of Jankula was frightened and his brother shot the crow. The girl went to the king to remind him of their love and to show him their child. The king took upon himself to bring up the young boy. After a month the king gave a Coat of Arms to the Morzsinai Family (a crow holding a ring in its mouth) and a great tenure in Transylvania, in Hunyad. The boy lived in the Castle of Hunyad and was given him the name: Hunyadi.
This is a short reconstruction of the legend...
István Molnár, 22 June 2001
I do not want to look like a conceited person, but let me tell my own family history on my maternal side. By mother's maiden name is Marussy, and there is a family tradition that Marussy is a Hungarized version of the Cumanian name Morzsinai, and that we are descendants of the brother of Morzsinai Erzsebet, so we have a blood relationship connection to the Hunyadi family. Our family tradition also say that the Morzsianai/Marussy clan is not of Vlachian origin, but of Cumanian origin. They came to Hungary from Moldva in the 14th century. The original letter of nobility dated from the 17th century is in the posession of my mother's cousin, it says "it is issued to certify that Marussy Andras is already a noble". The nobility prename of the family is fehervari (de Alba Iulia), so there is a big coincidence. Of course there is no proof for this, maybe the family tradition is fake, I don't know.
Ivan Marinov, 22 June 2001
In the 15th century the word Walachian didn't means Walachian ethnicity but origin from Walachia (now southern part of Romania). Before the Mongol Invasion the territory was under Cumanian rule. It could be the nobles were Cumanians by origin in the 15th century...
István Molnár, 22 June 2001
---

image by István Molnár, 3 August 2001
(photo taken at the Castle of Lendava/Lendva, Slovenia)
Nicholaus Zrínyi (1620-1664), In Hungarian: Zrínyi Miklós, Hungarian lord, general, Hungarian poet. In Croatian: Nicola Zrinski, Croatian-Hungarian lord, general, Croatian poet In Latin (the official language of the Kingdom of Hungary): Nicolaus a Zrini, The family has got its family name from the Castle of Zrin(y). Their original name was Subič. Nicholaus Zrínyi wrote the famous Hungarian epic: "A szigeti veszedelem" about his great-grandfather, Nicholaus Zrínyi's battle at Szigetvár 1566. From a Croatian page about the Zrínyi - Zrinski family - (flag is "Nicola VII"s flag) at <www.hr>: "...Nikola VII, like his father, before him, was famous for his heroism and education. The Franciscans in Cakovec owe him special gratitude since he was the man who established the Franciscan order in Cakovec. There is still a portrait of Juraj [gyo'rgy] at the Franciscan monastery with a Latin inscription in its upper corner: "Com. Nicolaus a Zrinio Regn. Dalm. Croat. Et Slav- Banus ac PP Franciscanorum Prov. S. Ladislai Chaktorn, introductor et illocator Ao 1659" (Prince Nikola Sdrinia, the Viceroy of Dalmatian, Croatian and Slavonian Kingdom, the man who introduced the Franciscan fathers of St. Ladislav's province to Cakovec in 1659). Due to his heroic acts (the Turks were scared away from Kanjiza forever; the Drava bridge at Osijek was burnt down) he became a Viceroy of Croatia and was respected and appreciated throughout Europe. Nikola was also famous as a poet and a polyglot - he spoke seven languages; in 1651, he wrote "Adriai Tengernek Syrenaia" (Adriatic Sea Murmaid) in Hungarian. Besides other poems, it contains the heroic epics on the battle of Siget and Nikola of Siget's death. After the peace treaty at Vasvar was concluded, he became the central figure of the Zrinski - Frankopan plot, but not for long, since he was killed by a wounded boar (?) while hunting at Kursanecki Lug on the 18th November 1664. "
The flag in my site can be seen here and here.
István Molnár, 3 August 2001
---

image from <www.khvm.hu>, located by István Molnár
Just found this picture on the page of the Ministry of Transport and Water Management of the Hungarian Republic (KVM). The picture is a link to the Museums (the title is: Post Office Museum Hollókő village).
The flag is an old flag, maybe from the years of the Prince Rákóczi's War of Independence. I didn't find anything about this picture. At the time of the war such flags were used.
Prince Francis Rákóczi II was the Reigning Prince of Transylvania and the "Commanding Prince" of Hungary, who was the leader the Anti-Habsburgian Independence war 1703-1711 in Hungary. It could be used between in this era. "CUM DEO PRO PATRIA ET LIBERTATE" was the inscription on the flags at the time of Prince Rákóczi's War of Independence.
István Molnár, 23 November 2000 and 27 March 2001
Latin for "With God for Country and Freedom".
Elias Granqvist, 27 March 2001
Old flag with the Coat of Arms of the Rakoczi family from the 17-18th century is at <www.tarnok.hu>. The Rákóczi family gave some Transylvanian princes and Francis Rákóczi II the leader prince of the independence war 1703-1711.
István Molnár, 30 August 2001
Flag from 1703-1711 Rákóczi's Revolt at <www.historicaltextarchive.com>. Flag of the Prince Rákóczi II's war in 1706 is at <mek.oszk.hu>.
István Molnár, 6 January 2002 and 26 January 2006
Yesterday I was in the Nemzeti Múzeum (HNM) and take some photos of the flag of Prince Ferenc Rákóczi II. (Click 1,2,3 to see the photos).
István Molnár, 5 February 2006
---
Here is a photo of Military flag 1838 type (used in Hungary).
István Molnár, 24 January 2002
---
On <www.sulinet.hu/T246.HTM>: The crowning ceremony of King Leopold I. on 27th June 1665. in Pozsony (Pressburg, now Bratislava). You can see two flags with the Hungarian Coat of Arms a flag with Croatian and a flag with Dalmatian Coat of Arms (?).
On <www.sulinet.hu/T252T.HTM>: The crowning ceremony of King Leopold II. on 15th November 1790. in Pozsony (Pressburg, now Bratislava). You can see some flags and you can see the Hungarian colours in use.
On <www.sulinet.hu/T253T.HTM>: The crowning ceremony of King Ferdinand V. on 28th September 1830. in Pozsony (Pressburg, now Bratislava). You can see some flags and you can see the Hungarian colours in USE. Crowning flag of Hungary at <www.sulinet.hu/M14.JPG>. Crowning flag of Cumania at <www.sulinet.hu/M13.JPG>. Crowning flag of Bulgaria at <www.sulinet.hu/M12.JPG>.
Do you know more information about theses pictures?
István Molnár, 8 June 2001
These coronation flags, as they are called, were used only on coronation ceremonies in Bratislava, and thogh they are an important relict showing the Croatian statehood continuity there seems to be quite little resarched. However, two of such are preserved in Croatian Historical Museum, one from 1830 and an other from 1867. There is a short article obout those flags in the exhibition catalogue of the flag exhibition held in the museum few years ago. Even if the article is very much concentrated to Croatian flags only, it may give few hints on their use and history. There are also few references to some Slovakian sources. They may then give us more info, and I don't doubt that there is also extensive Hungarian literature about the coronations that would encompass flags, too. I would guess that some more examples of those flags are preserved in museums of Hungary and slovakia (and more somewhere else?).
Željko Heimer, 9 June 2001
I have contacted Mrs. Jelena Borosak-Marjanovic from Croatian Historical Museum (cf. [bor96]) regarding the big difference in design of the coronations flags that are preserved in CHM and those displayed in St. Mathias church in Budapest. As I have suggested this may be due (among other possibilities) that those in St. Mathias church are not the coronation flags from the event, but might be replicas made at some latter point. Mrs. Borosak-Marjanovic is inclined to agree with that assumption, and suggest that this might happened while the church was renovated in 1874-1896.
Željko Heimer, 19 June 2001
It seems that Željko is right. The facts are I have got a picture: "Historical flags on the Mathias Church." and I have got an information from the church: "On the church there are only coronation flags from 1867"
Pictures and descriptions from her on <www.geocities.com/zaszlok/Muzeum>.
István Molnár, 19 June 2001
---
Flying historical flags in Hódmezövásárhely. Elements of nowadays Coat of Arms (the historical small Coat of Arms). You can see the original flags at <www.geocities.com/tortenel.html>.
István Molnár, 1 March 2001
---
Election flag for Móric Szentkirályi and Lajos Kossuth in 1847. Móric Szentkirályi and Lajos Kossuth became the deputies of Pest county in 1847 to the Parliament.
More information about Lajos Kossuth at http://en.wikipedia.org/wiki/Lajos_Kossuth
Source: Képes Történelem, Haza és Haladás; Budapest 1977.
István Molnár, 10 March 2006
---